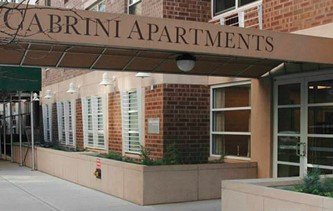 Affordable Senior Housing in the Heart of New York City
Believing that affordable, accessible housing is essential to promoting a healthy lifestyle for seniors, Cabrini Housing Development Fund Corp. opened new housing for the low income elderly in Manhattan's Gramercy Park area in the Fall of 2005. Cabrini of Westchester manages the building. The 70 one-bedroom apartments serve persons age 62 and older who meet income guidelines set by the Department of Housing and Urban Development. Because of overwhelming demand, however, the application waiting list is closed. Any future application periods will be announced in this section of the web site.
For more information please call: 212-673-6262
Cabrini Apartments does not discriminate on the basis of disability status in the admission or access to, or treatment or employment in, its federally assisted programs and activities.
The person named below has been designated to coordinate compliance with nondiscrimination requirements contained in the Department of Housing and Urban Development's regulations implementing Section 504 (24 CFR, part 8 dated June 2, 1988).: Housing Manager: Phil Deans (212) 673-6262